PooyaCoke Sepahan Company
Minister of Industry, Mines and Trade said: the duty of the government in this period, Supporting the development of private sector and taking advantage of the created conditions and help to empower the private sector.
"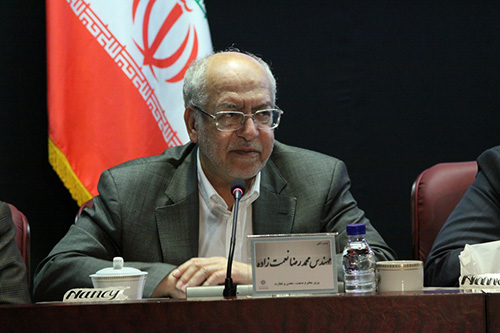 Shata" reports: Mr Mohammad Reza Nematzadeh in the fourth meeting of the delegation of Tehran Chamber of Commerce, Industries and Mines with the presence of the first vice president Dr Jahangiri held, added: the task of economic activists that shall look to its space with national vision, national development and public interest.
He added: interests of firms and individuals are certainly involved in this regard but if we notice to its own interests, the national interests will certainly disappear.
Mohammad Reza Nematzadeh reiterated: chambers related to the Parliament and committees can be effective, and we stand by your side.
He explained: in our country, only 5% distribution through chain stores while in other countries the figure is over 50 percent.
He said that one-third of our guils is still not permitted even in the simple sale of domestic distribution in commerce and the mining industry needs to be investigated.
Mohammad Reza Nematzadeh said: with the new terms, a number of media and writers expressed their worries about the situation that may happen for the current market so if we haven't clear policy ,it certainly occurs.
Nematzadeh, pointing to the joint venture and said: both foreigners and we should be involved in each market plus part of our productions must be committed to export in order to 30% of enhancement of production is caused with new partners in this collaboration.
He added: we should be able to expand its technology, research and development and makes brands also our copartner must cooperate to make new brands that be fortified and we also use the facilities and external resource .
Nematzadeh also emphasized : helping to the New mineral discoveries using the equipment of foreign partners, design and manufacture of mining machinery, development of joint ventures in industrial activities, creating the strong exporting companies in the field of trade and establishment of chain stores valid to using of this space in the section of Industry, Mine and Trade.
He added: using talks with foreign delegations and creation of basic facilities and removal of obstacles in order to create space for private sector activities.
Minister of Industry, Mines and Trade, pointing referring to the removal of barriers to competitive production,said: the government quickly are approving regulations. that several of its were approved last night that one of them is relevant on how to settle currency reserve that the final reforms were done and notified.